2023 Jan 6
MTM Kawasaki and Tsubaki prolong partnership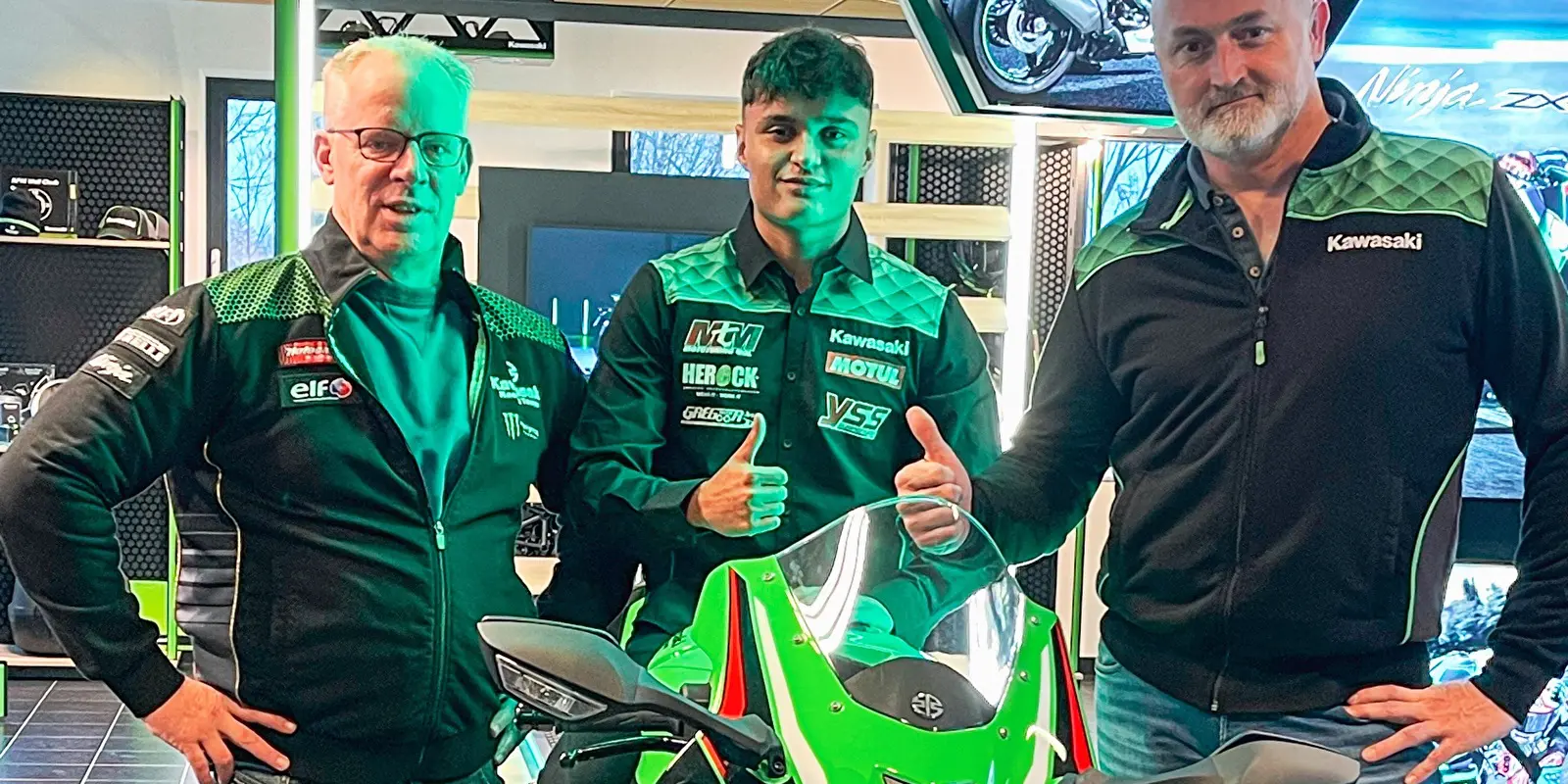 Tsubaki proudly presents
Tsubaki and MTM Kawasaki have prolonged their partnership for the 2023 World Supersport and World Supersport 300 championships. Tsubaki is proud to sponsor this amazing team, as they take young talent to new heights and prove, season after season, to be a very competitive squad who can fight for championships and titles.
For the coming season, Adrian Huertas goes into his second year of the World Supersport championship, building on a strong rookie season. 2020 World Champion Jeffrey Buis returns to the Supersport 300 category, along rookie Loris Veneman, a talented Dutch rider who will debut at the Assen race.
Read below what MTM Kawasaki and the riders have to say about the coming season.
MTM's announcement 
Time to unveil the 2023 riders lineup for MTM Kawasaki, as the belgian team will continue 2022 project in World Supersport category with spanish rider Adrián Huertas and will welcome back Jeffrey Buis in Supersport 300, who will line up with rookie Loris Veneman, for a full dutch squad to defend World Supersport 300 teams title.  
MTM Kawasaki is happy to announce the renewal of the contract with 2021 World Supersport 300 World Champion Adrián Huertas to race in World Supersport category for the 2023 season. Huertas will be at the start of his second year with the team in the category, after a good rookie season in which he showed good potential and a lot of margin to get even better results in the future.  
Huertas will race once again with MTM Kawasaki ZX6R to start his third consecutive year with the team, with the clear target to improve last year's results – best one was a 7th place finish – and try to be able to fight in the top group for all the races during the season, as both team and rider got more knowledge and experience during the past year and are now willing to start this season together.  
Adrián Huertas: "I'm very happy to announce I will continue with MTM Kawasaki Team for the 2023 season in World Supersport Championship. We had ups and downs during our first season, but I strongly believe in the team, in the work they're doing and I believe we will be able to improve a lot this season working together. It will be my third year with Ludo and all the team and I can't wait to start the first tests and work with the clear target to be competitive all the season and fight for the big goal. We did it together in Supersport 300 and it's time to do it together in World Supersport. I want to thank Ludo, Kawasaki and all my sponsors and family and I can't wait to be on track with my Ninja and reach our targets" 
MTM Kawasaki World Supersport 300 team will see a brand new lineup, with the team which decided to bet on a full dutch squad, as 2020 World Champion Jeffrey Buis will come back to the team and will be joined by Loris Veneman, 16 year old rider who will make his debut in the WorldSBK Championship at Assen, which will be the first race of his career in Supersport 300.  
Buis comes back to MTM Kawasaki team after one year away in Supersport category. Coming back to Supersport 300 and MTM is the first step to rebuild that magic which allowed the duo to get 7 race wins, 13 podiums and one World Championship during the past 3 years together. Potential is there and the team will help Jeffrey to make his return on a completely different bike - compared to Supersport - during the preseason in order to be able to go all the way starting from the first round.  
Jeffrey's teammate will be Loris Veneman, who, as said, will make his first appareance in Supersport 300 at his home race in Assen. Loris comes from Northern Talent Cup, in which he raced during the past season, showing some great races and performances, together with some falls, getting a lot of experience fighting in the front group to end the season 4th overall.  
Transition and preseason will be important for Veneman, as Loris is ready to take this opportunity to race with the 2022 World Supersport 300 Teams Champion. Target will be to get as much experience as possibile during the first tests with the team, learn quickly from team staff and teammate's know how in order to be ready to score high as soon as possible.  
Jeffrey Buis: "I'm happy to be riding for MTM Kawasaki again in 2023, thanks to Ludo, Kawasaki Benelux and Kawasaki Europe for giving me another chance to prove myself in the 300 class. Last season wasn't a really good one for me, with some mistakes, and everything didn't really fall into place in the Supersport. Because of that, I'm happy that I can get back to the 300 and the 2023 goal may be clear but I'm going to do everything I can to prepare myself to the next season and then we will see at the first race at Assen how things will stand."
Loris Veneman: "I really want to thank MTM Kawasaki team and my sponsors for giving me this opportunity. I am going full steam ahead and have been preparing myself physically well for a while now and my school also helps enormously in the planning. The World Supersport 300 is a nice step from the Northern Talent Cup and I am very much looking forward to be in the World Superbike paddock. I will have to learn a lot on the new bike and the new tracks but the team is very experienced and of course, with Jeffrey, I have a former world champion and I can't wait to ride with him. The opening race at the end of April will be at my favourite circuit of Assen but before I will prepare myself a lot during private practices and with the team in order to be as competive as possible at the start at Assen."